Skipper Profiles
Capt. Paul Derham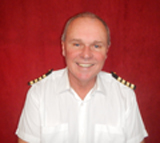 Paul Derham was born into a Mudeford fishing family and thought his destiny was to go fishing like his Father and Grandfather. However he was not allowed to do this. Instead Paul was to find a trade or profession. Paul decided to join P&O as a Navigation Cadet. After serving on all types of ships, Paul qualified and was sent to SS Canberra as a Third Officer and over the next 24 years rose up to Staff Captain sailing on Canberra, the old Oriana, Island Princess, Royal Princess, Pacific Princess, Sky Princess, Victoria, Arcadia, Aurora and the new Oriana.
Paul completed an auditors course and audited various ships of the P&O and Princess Cruises fleet and the QE2, which was by that time, part of Carnival.
In 2003 an opportunity arose to purchase the Mudeford Ferry. It was a hard decision to make as Paul was about to be given command of his own ship, however, Paul decided that he had been from Melbourne to Mumbai and now it was time to return to Mudeford.
Paul enjoys operating his own fleet of five vessels although as he says "..it's not without its Trials and Tribulations"
The Mudeford Ferry was featured in the BBC programme 'Invasion of the Job Snatchers' and Paul came up with the catch phrase for his crew of, "unless you are 5 minutes early for shift, you are late".
Ted Bishop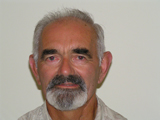 Hi. My name is Ted Bishop and I am one of the skippers of the Mudeford ferry. I have been at sea for most of my working life. For 38 years I was a commercial fishing skipper working an area which extends from Portland Bill to Beachy Head, sometimes in the kind of weather that would not be described as inviting. Five years ago I joined the ferry team with the intention of continuing my working career until I was no longer useful. 3 years ago I took on a new challenge by deciding to deliver a few motor yachts during the slack periods of the ferry service. This has now grown into an extremely busy job and in the past two years I have travelled in excess of 30,000 miles delivering over 140 very expensive new motor yachts to places as far away as Bergen in Norway, Kotka in Finland and Barcelona in the Med.
Chris Wood



Chris is "The Saturday Skipper" who has been regularly at the helm of Josephine and Ferry Dame each year since 1994. Born in Tuckton he started driving the passenger boats up and down the River Stour as a teenager before going "deep sea" driving the Boats from Bournemouth Pier to Yarmouth Swanage and Poole. After a career in Corporate Banking Chris returned to the area. Now semi retired Chris divides his time playing golf at Highcliffe Castle Golf Club, where he and his wife Margaret are Members, sailing their own boat Quink, and driving the United Ferry Headland Belle up and down the River from Tuckton on most Sundays. Chris and Margaret also work for Bath Travel escorting passengers on cruises and has clocked up many sea miles and sailed on most of the Seven Seas.